Ash Meadows Observatory
Prior to the autumn of 2002 I transported all of my gear to remote imaging sites. It is no easy task to haul and set up hundreds of pounds of equipment after a three hour drive into the mountains. The challenge increases when one includes a computer and CCD camera as well as the power source to run them. After nearly 14 years of using a portable setup I decided to look for a permanent site. I live in Las Vegas, NV, so a backyard observatory is not practical. Fortunately, I made the acquaintance of an individual who owns a large ranch near the rural community of Ash Meadows, NV which is located 90 minutes northwest of Las Vegas. I found an ideal site on his property to construct a building with an adjacent concrete pad. In the arid Southwest, an unoccupied observatory is subject to blowing dust and the invasion of undesirable crawling pests. For this reason I chose not to construct a traditional roll-off roof observatory since I visit the site only a few days each month. Instead I store my pre-assembled setup in a sealed, climate-controlled building and image outdoors under the stars.
My telescopes and mount are attached to a pier which is welded to a sturdy aluminum pallet. Using a pallet jack, the entire setup is easily removed from the building over to the nearby imaging station. Permanent markers accurately align the pallet and pier to the pole. This setup is described in detail on the Imaging Equipment & Techniques page.
Click on the thumbnail images below to view Ash Meadows Observatory: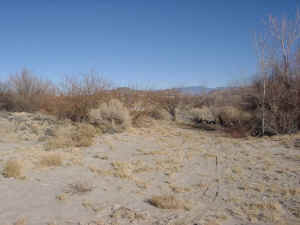 Observatory site prior to construction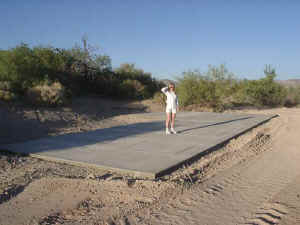 Concrete pad during construction
The completed observatory showing set-up